Content
Is Margaret Thatcher Dead Yet ✝ - Most Useless Website 50/2016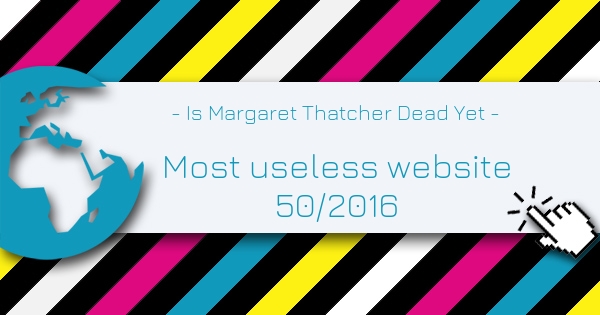 published: December 19, 2016
Is Margaret Thatcher Dead Yet is the Most Useless Website of the week 50 in 2016. Wondering if Margaret Thatcher is still alive and kicking? Look no further! This website has the answer! This one may be in bad taste, but it's still just as pointless as the rest on this website. So don't wait and get the answer.
Write a Comment about this Useless Website.
Is Margaret Thatcher Dead Yet ✝
Rated
out of 5 based on user ratings.
List of the most useless websites in 2016.
Follow this link if you want to become a part of the index and submit your useless website.