Content
What did David Bowie do at your age? - Most Useless Website 07/2018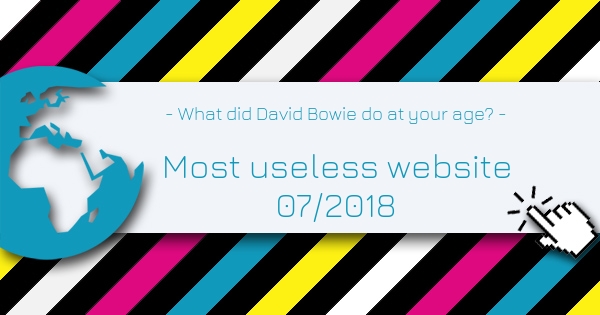 published: February 19, 2018
What did David Bowie do at your age? is the Most Useless Website of the week 07 in 2018. David Bowie might have made some of the most influential music ever. Want to know what David Bowie did at your age? Find it out here.
For example when David Bowie was 30: He sang in a completely self-invented language on the 1977 "Low" album track, "Subterraneans". A decade before it was popularized by The Cocteau Twins. Now try it your self, enter your age and hit GO at http://supbowie.com/.
Write a Comment about this Useless Website.
What did David Bowie do at your age?
Rated
out of 5 based on user ratings.
List of the most useless websites in 2018.
Follow this link if you want to become a part of the index and submit your useless website.