Content
Days of the Year - Most Useless Website 16/2018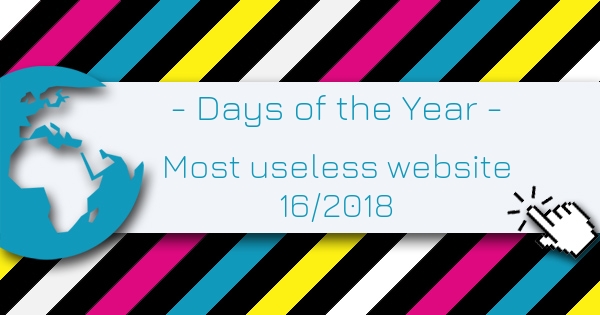 published: April 23, 2018
Days of the Year is the Most Useless Website of the week 16 in 2018. This useless website is the ultimate online guide to worldwide events, festivals, funny, weird, and wack days of the year.
Sometimes, it can be very difficult to know what day of the week it is. On this website you can check what day is today. Maybe it is NO DIET DAY, HAMBURGER DAY or UNICORN DAY.
If you don't want to miss a thing again make sure you bookmark DAYSOFTHEYEAR.com today.
Write a Comment about this Useless Website.
Days of the Year
Rated
out of 5 based on user ratings.
List of the most useless websites in 2018.
Follow this link if you want to become a part of the index and submit your useless website.