Content
When is the next Friday 13th? - Most Useless Website 26/2018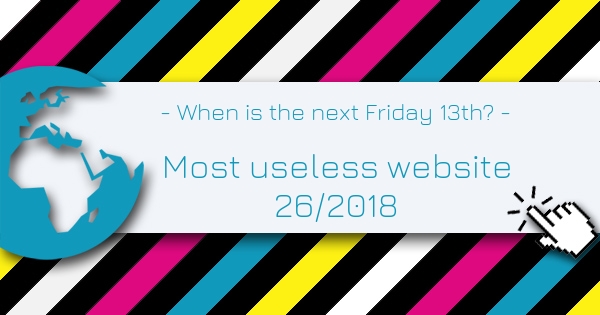 published: July 2, 2018
When is the next Friday 13th? is the Most Useless Website of the week 26 in 2018. Friday the 13th is considered an unlucky day. If the day scares you find out when the next Friday 13th occurence is so you can plan your wedding, tattoo or flight.
Although there's no logical reason to fear the occasional coincidence of any day and date, Friday the 13th can still have noticeable impacts.
Find out every Friday 13th between now and the future!
Write a Comment about this Useless Website.
When is the next Friday 13th?
Rated
out of 5 based on user ratings.
List of the most useless websites in 2018.
Follow this link if you want to become a part of the index and submit your useless website.