Content
🦆 🦆 Ducks Are The Best - Most Useless Website 45/2017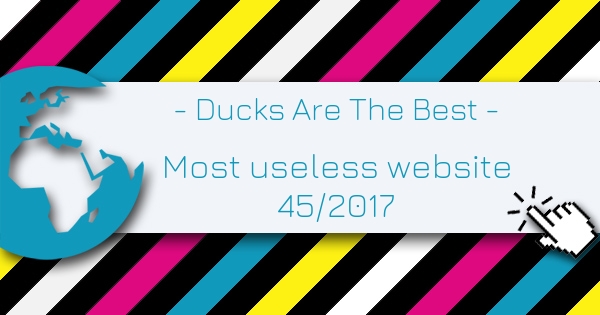 published: November 12, 2017
Ducks Are The Best is the Most Useless Website of the week 45 in 2017. This website is another glorious useless web project. Let your mouse cursor turn into a duck painting cursor. All you have to do is move your cursor through this awesome website and get a trail of yellow ducks left behind. The whole thing is completed by the changing background and the duck schnapps. So turn you volume on.
If you are a web developer: take a look at the HTML source. Let yourself be surprised what you find here.
Now: stop reading and enjoy the ducks by saying DUCKS QUACK ME UP!
Write a Comment about this Useless Website.
🦆 🦆 Ducks Are The Best
Rated
out of 5 based on user ratings.
List of the most useless websites in 2017.
Follow this link if you want to become a part of the index and submit your useless website.