Content
Screaming Goat Piano 🐐 🎹 - Most Useless Website 47/2017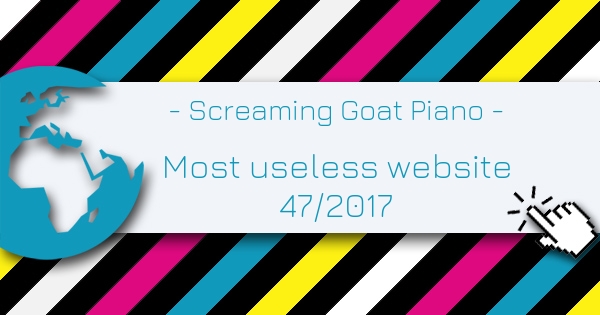 published: November 27, 2017
Screaming Goat Piano is the Most Useless Website of the week 47 in 2017. You have played the B. Meowsic Keyboard? You have played the B. Woofer Hound Dog Guitar? Guess what...the Screaming Goat Piano has arrived. It has never been easier to create a goat song. If you ever wanted to make a goat song you now have the power to create your own awesome, bizarre and unique screaming-goat meme. Play the screaming goat piano with a mouse or you computer keyboard, and listen what comes out. Kids love it. So you will too.
Write a Comment about this Useless Website.
Screaming Goat Piano 🐐 🎹
Rated
out of 5 based on user ratings.
List of the most useless websites in 2017.
Follow this link if you want to become a part of the index and submit your useless website.